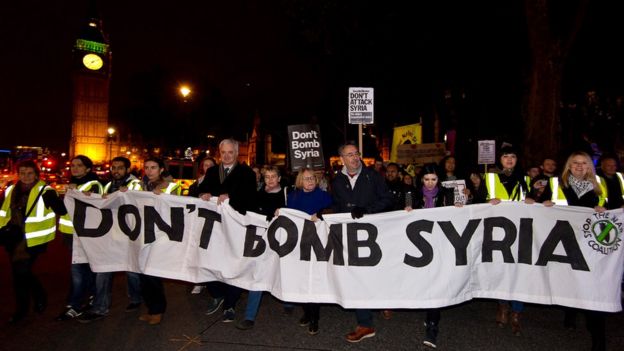 David Cameron is making the case for air strikes against IS in Syria, saying the aim is to "keep the British people safe" from terror attacks.
He faced calls to apologise for reportedly saying opponents of action were "terrorist sympathisers".
Labour leader Jeremy Corbyn said the comment "demeans the office of prime minister".
The PM declined to apologise, but said there was "honour" in voting for or against military action.
The 10 hour Commons debate will end with a vote on whether the UK joins others such as France, the US and Russia in bombing targets in Syria.
The government motion would authorise air strikes "exclusively" against Islamic State - also known as Isis, Isil or Daesh - in Syria.
Bombing missions are likely to begin within days if the Commons delivers what Mr Cameron hopes will be a majority after Mr Corbyn abandoned attempts to impose his opposition to air strikes on Labour and allowed his MPs a free vote.
Calling on MPs to "answer the call from our allies" and take action, Mr Cameron said: "The House should be under no illusion that these terrorists are plotting to kill us and to radicalise our children right now."
He said MPs faced a simple question: "Do we work with our allies to degrade and destroy this threat and do we go after these terrorists in their heartlands from where they are plotting to kill British people, or do we sit back and wait for them to attack us?"
The prime minister also defended his controversial claim that there were 70,000 moderate opposition fighters in Syria, saying it was the estimate of the Joint Intelligence Committee - the UK's senior intelligence body.
He said the majority were members of the Free Syrian Army and that there were a further 20,000 Kurdish fighters with whom Britain could also work.
He told MPs the forces were "not ideal, not as many as we would like, but they are people we can work with".
Mr Cameron said that in future the UK government would be referring to IS as Daesh as much as possible, because "this evil death cult is neither a true representation of Islam nor is it a state".
Daesh has negative connotations in the Middle East and is seen by some as a way of challenging the legitimacy of the group.
Labour leader Jeremy Corbyn told MPs: "It is impossible to avoid the conclusion that the prime minister understands public opposition to his ill thought-out rush to war is growing - and wants to hold the vote before it slips from his hands.
"Whether it's the lack of a strategy worth the name, the absence of credible ground troops, the missing diplomatic plan for a Syrian settlement, the failure to address the impact on the terrorist threat or the refugee crisis and civilian casualties.
"It's become increasingly clear that the prime minister's proposals for military action simply do not stack up."
He disputed Mr Cameron's claim about ground troops, saying it was "quite clear there are no such forces" and only extremists would take advantage of the strikes against IS.
Mr Corbyn's aides say as many as 90 Labour MPs could back the government - and with both the Democratic Unionist Party and the Liberal Democrats backing action Mr Cameron is expected to win parliamentary approval for the UK to intervene militarily in the four-year conflict in Syria.
However, at least 110 MPs from six different parties - including the SNP, which opposes action - have already signed up to an amendment seeking to block air strikes.
Commons Speaker John Bercow said 157 MPs had applied to speak in the debate. A vote is expected at around 22:00 GMT.
The prime minister caused controversy on the eve of the vote by labelling Mr Corbyn and other opponents of action as "terrorist sympathisers".
The BBC's political editor Laura Kuenssberg said the comments were a departure from the "carefully crafted" language that Mr Cameron has used over the past week.
He faced calls to apologise for the comments at the start of the debate from Mr Corbyn and a string of Labour, SNP and Lib Dem MPs.
Mr Cameron said: "Everyone in this House should make up their mind on the arguments in this House and there's honour in voting for, there's honour in voting against.
"That is the way this House should operate and that's why I wanted to be absolutely clear at the start of my statement that this is about how we fight terrorism not whether we fight terrorism."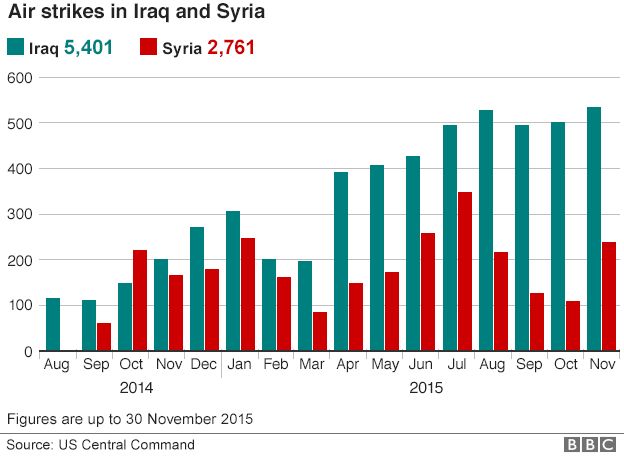 According to BBC research, of the 640 MPs expected to vote, 362 MPs are in favour of the motion while 175 are against. Of the remainder, 19 are "leaning to" supporting the government, three are "leaning against" while 80 are undecided.
Wednesday's parliamentary schedule - including Prime Minister's Questions - has been scrapped to accommodate a whole day's debate on Syria.
The government says military action is "only one component of a broader strategy" to tackle IS and the UK government would not deploy troops on the ground.
The UK is already providing intelligence, surveillance and other logistical support to countries fighting IS in Syria. The RAF has also carried out thousands of raids on IS targets in Iraq since Parliament approved similar action there last year.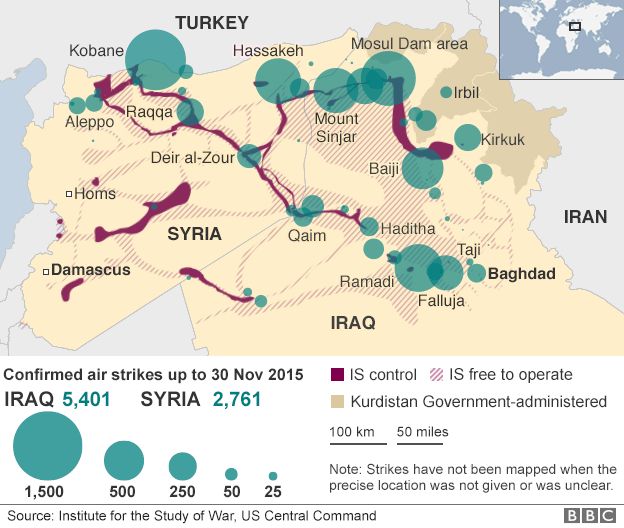 ---
Analysis

By BBC Security Correspondent Frank Gardiner
Independent experts say the figure of 70,000 is broadly accurate but there is a high degree of scepticism as to how many could actually be persuaded to fight IS instead of the Syrian regime, let alone be moulded into a cohesive, effective force.
There are also questions over just how "moderate" and pluralistic many of the Islamist factions are within this number. It is far from certain that, if empowered in a post-Assad, post-IS Syria, battle-hardened Sunni rebels would be happy to share power with Christians and Alawites.
---
The run-up to the vote has been marked by a week of turmoil within the Labour Party.
Mr Corbyn has the support of the majority of his MPs but up to half of his shadow cabinet may vote in favour of bombing, including Shadow Foreign Secretary Hilary Benn and Deputy Leader Tom Watson.
The Labour leader urged those who take a different view to him to "think again", saying 75% of Labour members polled by the party indicated they opposed air strikes.
Party sources have claimed the number of Labour MPs likely to back the government is falling.
SNP leader Nicola Sturgeon has confirmed her party's 54 MPs will be opposing air strikes, saying bombing on its own will not rid the threat of terrorism or bring peace to Syria.
The SNP's leader at Westminster, Angus Robertson, said there was "no shortage" of countries bombing Syria.
He told MPs: "I appeal to colleagues on all sides to make sure that we do not ignore the lessons of Afghanistan, ignore the lessons of Iraq, ignore the lessons of Libya.
"Let's not repeat the mistakes of the past, let's not give the green light to military action without a comprehensive and credible plan to win the peace."
But the DUP has said its eight MPs will support airstrikes and Lib Dem leader Tim Farron has said action is justified as part of "a measured, legal and broad-based international effort".
MPs rejected air strikes against Syrian government targets in 2013, but ministers say it is "illogical" to carry out strikes in Iraq but not Syria - as IS does not recognise the international border.
Thousands of protesters, led by the Stop the War coalition, took to the streets of London for the second time in four days on Tuesday to protest against bombing.