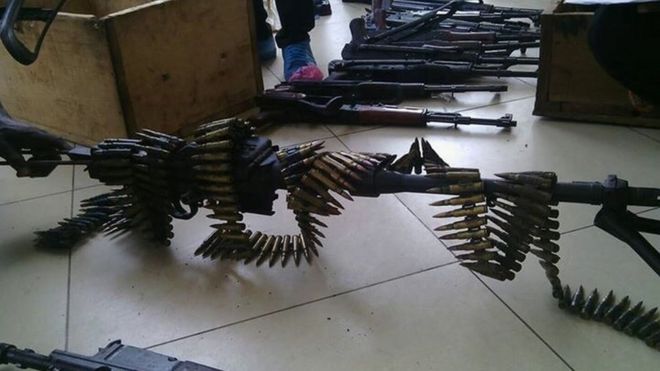 A suspected arms dealer from Burkina Faso has been arrested in Ghana after officers found weapons capable of shooting down an aircraft in his bedroom, a police commander has said.
The 72-year-old man was detained in the city of Kumasi along with four other people suspected of buying weapons.
He confessed to smuggling in arms from Ivory Coast, Burkina Faso and Niger, police in Kumasi said.
Machine guns and anti-aircraft ammunition were among the arms found.
Africa Live: BBC news updates
Ashanti Regional Police Commander Nathan Kofi Boakye said some of the weapons found could be fired for six hours continuously.
Some of them were like those found mounted on the back of a pick-up truck in rebel-held areas, he said.
The search for an arms dealer started in October after a number of bullets were discovered by police, the commander said.