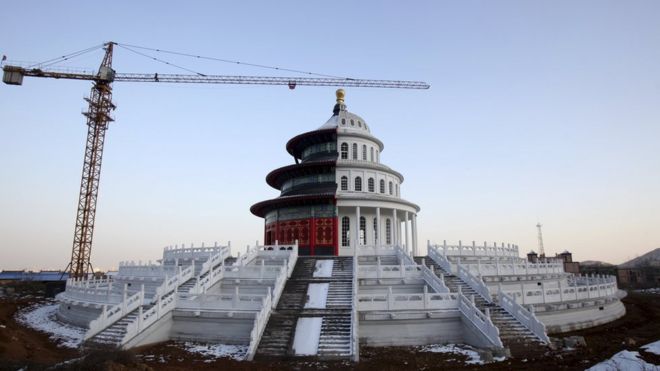 China is known for its replicas of famous sights, but one new creation has gone a step further by combining two landmarks into one building.
Half of the structure, located in the northern city of Shijiazhuang, is a copy of Beijing's Temple of Heaven, but the other half is the whitewashed rotunda of the US Capitol building. The structure is four-storeys high and stands in the grounds of a film and television studio on the outskirts of the city, the China News website reports.
The Beijing-Washington hybrid has attracted thousands of comments on social media, and plenty of people on the Sina Weibo microblogging site think it's an ingenious idea. "From one side you can film period dramas, from the other side you can film Western scenery," writes one user. "This saves construction costs, how strange and cute!" Another person says it's "creative, cost-efficient and resourceful, a perfect way to utilise space!" But while one users thinks it's a "symbol of friendship" between the US and China, another wonders whether it was actually the result of a "quarrel between designers".
It's thought to be the first such hybrid building in a country which has no shortage of replica sights. Next door to the Shijiazhuang structure stands a mock-Egyptian sphinx, and elsewhere visitors can see recreations of London's iconic Tower Bridge, the Austrian alpine village of Hallstatt and even a Chinese version of Venice.