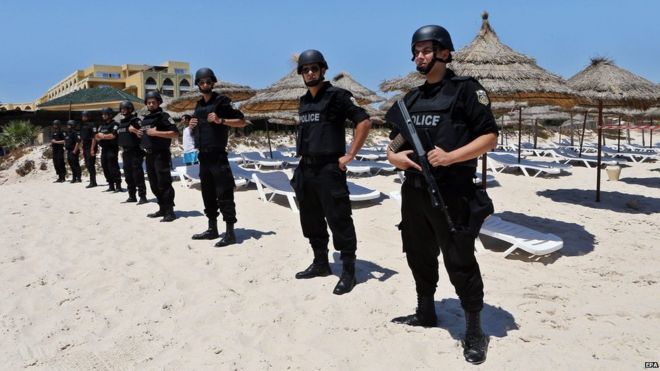 Tunisia is to lift the state of emergency it imposed after a terror attack at a resort in June killed 38 tourists, mainly Britons.
The short announcement carried on state media said the measure would be lifted at midnight on Friday local time (23:00 GMT).
The state of emergency gave security forces more powers and limited the right of public assembly.
Security has been stepped up since the deadly attack in Sousse.
The state of emergency had been extended in July for two more months, taking it to the start of October.
Also in July, parliament adopted a new anti-terror law to introduce tougher measures against suspected activities by militants. That law remains in place.
A student identified as Seifeddine Rezgui opened fire on tourists on a beach and in a hotel in Sousse on 26 June before being shot dead by police.
The authorities said he had trained with a militant group in Libya.
Security forces were criticised for not responding more quickly.
Shortly after the attack President Beji Caid Essebsi admitted Tunisian security forces had responded to security challenges "gradually... because we did not have the culture of terrorism in Tunisia".
Analysts say Tunisia has been put at risk by the chaotic situation in neighbouring Libya, and by the danger posed by Tunisians who have gone to fight in Syria and Iraq returning home.
The tourism industry, an important sector for the country, was already reeling from an attack by two gunmen in March at the renowned Bardo museum in the capital Tunis in which 22 people were killed.
Background and analysis

Image copyright
Getty Images