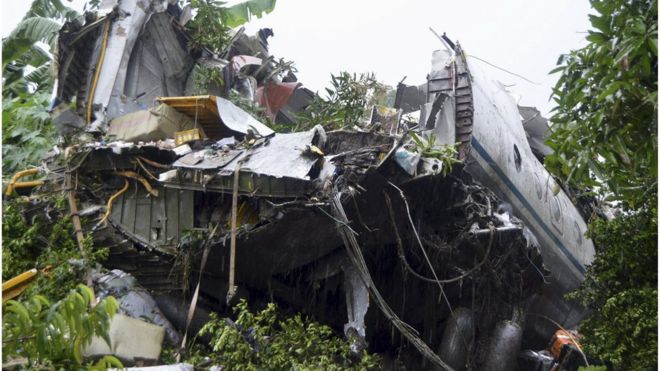 A cargo plane has crashed on take-off near the international airport in South Sudan's capital Juba, with at least 25 people killed.
Some reports have put the death toll as high as 40.
It is unclear how many of the victims were on the plane and how many were on the ground.
The Antonov An-12 plane was heading to Paloch in Upper Nile State and crashed just 800m (half a mile) from the runway.
Presidential spokesman Ateny Wek Ateny told Reuters that there were at least two survivors, a crew member and a child.
The Armenian foreign ministry has confirmed that five Armenian crew members were killed, Russia's Interfax news agency reported.
Earlier reports had said the crew were Russian.
Cargo planes to remote parts of South Sudan often carry passengers too.
The plane's first flight was in 1971, the
Aviation Safety Network reported
. It was being operated by Allied Services Limited, a logistics company based in South Sudan, at the time of the crash.
However, the plane belonged to the Tajik company Asia Airways, Tajikistan's Transport Ministry told the Ozodagon news agency.
The Antonov State Company, which built the plane, is a Ukrainian aircraft manufacturing company.