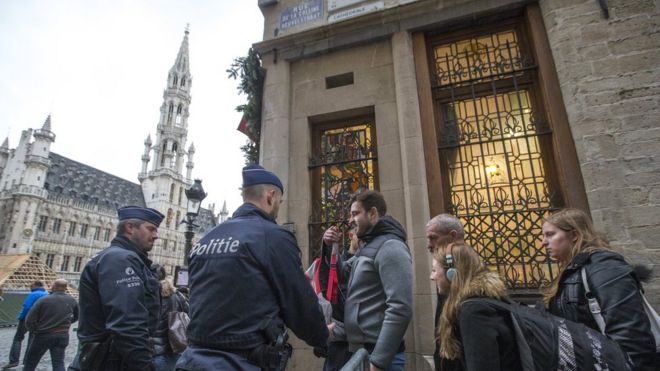 Belgian PM Charles Michel says the decision to raise the terror alert level in Brussels was taken based on information about the risk of an attack "like the one that happened in Paris".
The fear was that "several individuals with arms and explosives could launch an attack... perhaps even in several places", he said.
Belgium has raised its terror alert in Brussels to the highest level.
The metro is closed till Sunday and people have been told to avoid crowds.
These include shopping centres and concerts, and the authorities have also recommended that large events, including football matches, be cancelled, a statement said.
The warning for the rest of Belgium stays at a lower level, which is still at a "serious" level.
Brussels was home to some of the suspected Paris attackers who killed 130 people last week.
The Belgian government will review the security situation in Brussels on Sunday afternoon, Mr Michel added.
Interior Minister Jan Jambon earlier told reporters the country's situation was "serious", but "under control", as he arrived for a special security cabinet meeting on Saturday.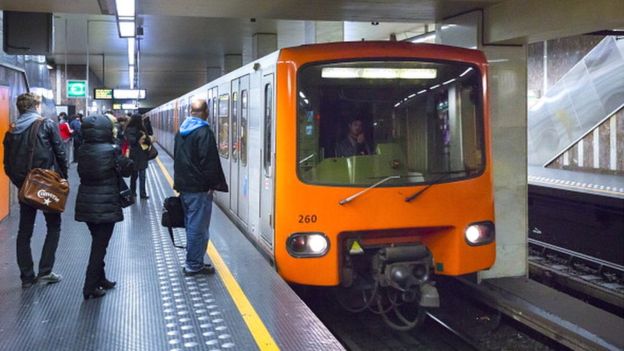 One of those being sought, Salah Abdeslam, is believed to have gone back to Belgium.
Turkish police say they have arrested a Belgian man of Moroccan descent on suspicion that he scouted out sites in Paris, Turkish news agencies report.
The Belgian authorities have so far charged three people with involvement in the attacks, which Islamic State said it carried out.


On Friday evening, large crowds converged at the scenes of the attacks across the French capital at 21:20 (20:20 GMT) to hold vigils at the time the attacks started a week ago.
Also on Friday, the UN Security Council unanimously adopted a resolution to "redouble" action against Islamic State following last week's deadly attacks in the French capital in which 130 people died.
The French-drafted document urges UN members to "take all necessary measures" in the fight against IS, which said it carried out the attacks.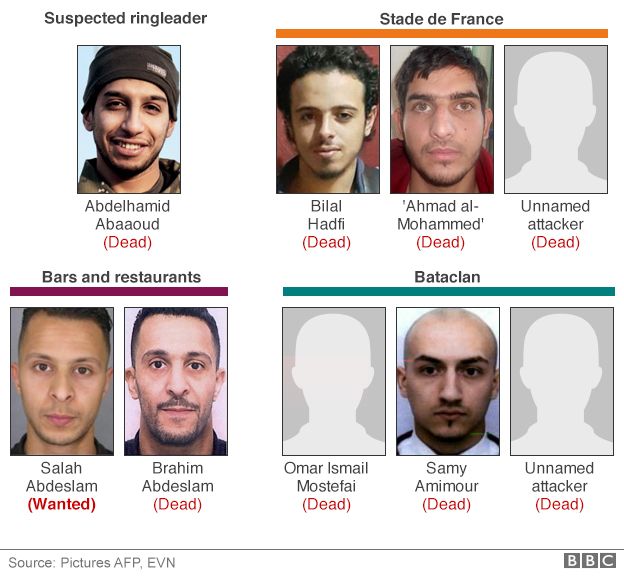 Hundreds of people were wounded in the near-simultaneous attacks on Paris bars and restaurants, a concert hall and sports stadium.
The attacks were the worst in Europe since the 2004 Madrid bombings.

What is Islamic State?
IS is a notoriously violent Islamist group which controls large parts of Syria and Iraq. It has declared its territory a caliphate - a state governed in accordance with Islamic law - under its leader Abu Bakr al-Baghdadi.
What does it want?
IS demands allegiance from all Muslims, rejects national borders and seeks to expand its territory. It follows its own extreme version of Sunni Islam and regards non-believers as deserving of death.
How strong is IS?
IS projects a powerful image, partly through propaganda and sheer brutality, and is the world's richest insurgent group. It has about 30,000 fighters but is facing daily bombing by a US-led multi-national coalition, which has vowed to destroy it.