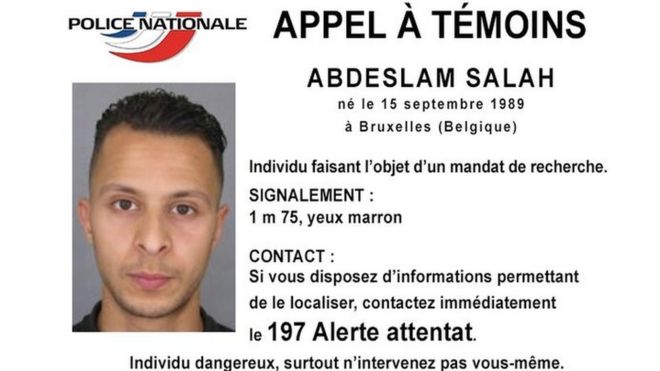 French police have issued a photograph of a man wanted in connection with Friday's deadly attacks in Paris.
The man, named as Belgian-born Abdeslam Salah, 26, is described as dangerous.
Seven attackers, including two who lived in Belgium, died during assaults on a series of targets, officials said.
French Interior Minister Bernard Cazeneuve said the attacks had been prepared "by a group of individuals based in Belgium" who had "benefited from accomplices in France."
Live updates
What we know
On Sunday, the discovery of a suspected getaway car in Montreuil, east of Paris, fuelled suspicion that at least one suspect had escaped.
French police appealed for information about Abdelslam Salah but warned people not to approach him.
France is marking three days of national mourning for the 132 people who were killed in attacks on restaurants, a concert hall and a sports stadium.
Hundreds of others were injured, many critically.
Rented in Belgium
The Seat car found in Montreuil is believed to have been used by gunmen who opened fire on people in restaurants on Friday, police say.
Several AK47 rifles were found in the car, French media quote judicial sources as saying.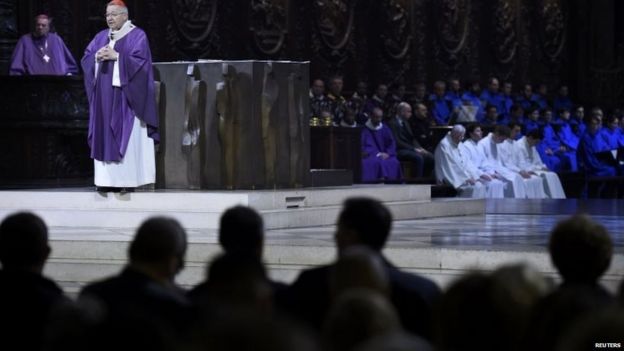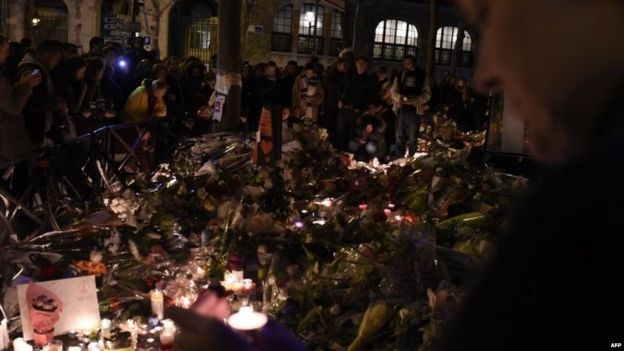 At the scene: Mark Mardell, BBC News, Paris
Suddenly our waiter urged us to get up and get in the back of the café. We were thinking Paris was getting back to normal, sitting in a packed in the Marais area, about to pay the bill. We were wrong.
A young woman came in, clearly shaken, trying to catch her breath. She said somebody had told her there was a man with a gun on the streets.
She'd been told to get inside. Something was happening in the nearby Place de La Republique. No, she hadn't seen a gun. No, she hadn't heard any shots. But, yes, she was petrified.
The metal shutters, came down, the lights were switched off. We were told to get down on the floor. No, lower: lie down. Keep quiet. Whisper.
It lasted about half an hour, this twilight of frightened disbelief. People called the emergency number and the all clear came through. The waitress told me it reminded her of stories about the war.

The Seat and another car used by the attackers - a VW Polo - were rented in Belgium.
The Polo was found near the Bataclan concert venue, where 89 people were killed.
One of the Paris attackers lived in Brussels and another in the nearby town of Molenbeek, Belgian prosecutors said on Sunday, without naming either.
A total of seven men have been arrested in Molenbeek, they added. Not all are being held in direction connection with the Paris attacks.
The only dead attacker to be named so far is a 29-year-old Frenchman, Ismail Mostefai. He had a criminal record and had been flagged up as a possible Islamist extremist.

Attack sites:
La Belle Equipe, 92 rue de Charonne, 11th district - 19 dead in gun attacks
Le Carillon bar and Le Petit Cambodge restaurant at rue Alibert, 10th district - 15 dead in gun attacks
La Casa Nostra restaurant, 92 rue de la Fontaine au Roi, 11th district - five dead in gun attacks
Stade de France, St Denis, just north of Paris - explosions heard outside venue, three attackers and bystander dead
Bataclan concert venue, 50 Boulevard Voltaire, 11th district - 89 dead when stormed by gunmen