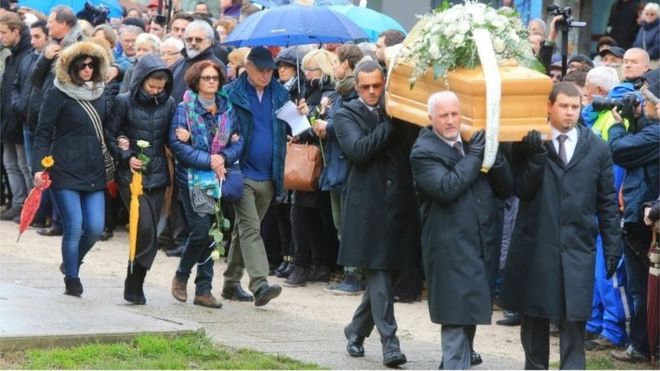 The funeral of an Italian student found dead in Cairo has been held in his home town in north-eastern Italy.
Giulio Regeni, a PhD student at the University of Cambridge, went to Egypt to research the country's trade union movement, which is viewed with suspicion by the authorities.
His body was found earlier this month dumped at a roadside, showing signs of torture.
Egyptian authorities have denied any involvement by security services.
Italy's Prime Minister, Matteo Renzi, said he had told Egypt that the friendship between the two countries was dependent on "truth".
Family and friends gathered in the small town of Fiumicello on Friday to say goodbye to the 28-year-old researcher.
Local people offered accommodation to the many mourners who had travelled from abroad for the private service.
Mr Regeni's department at Cambridge paid tribute to him, describing him as "passionate about his research" and "driven by a sense of justice".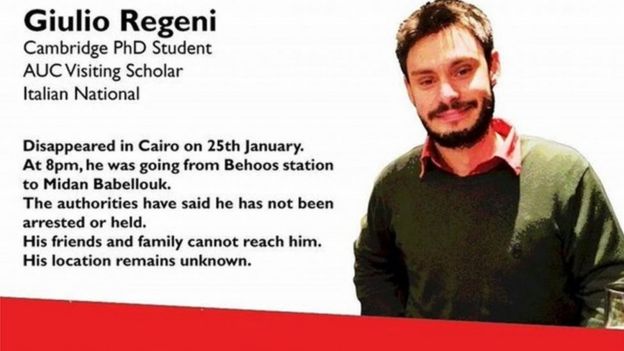 His colleague Dr Anne Alexander told the BBC that fellow researchers have been in shock and had reacted with horror at what had happened:
"All of us were desperately hoping for good news after we found out that he disappeared… then of course when his body was found and it came out about the torture he appears to have suffered, that's obviously been very, very difficult for people to take in - how something like this could have happened to someone who was a researcher like us.
"It's absolutely incredible that Egypt should have become so dangerous for a researcher to have suffered that fate."
Vigils to remember Mr Regeni were also held in Cambridge and London on Friday.