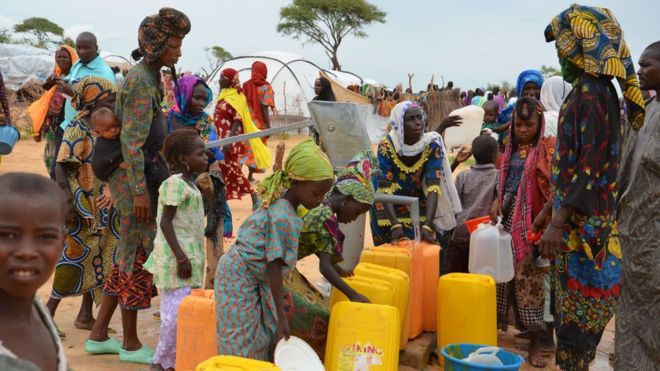 Half a million children have fled attacks by the Islamist group Boko Haram over the past five months, the UN children's agency says.
Unicef says this brings the total number of displaced children in Nigeria and neighbouring countries to 1.4m.
Tens of thousands are suffering from acute malnutrition and some of their camps have been affected by cholera.
Boko Haram attacks have spiked after it was driven out of territory it held by a regional military offensive.
"In northern Nigeria alone, nearly 1.2m children - over half of them under five years old - have been forced to flee their homes,"
Another 265,000 children have been uprooted in Cameroon, Chad and Niger, it said.
BBC Nigeria correspondent Will Ross says getting help to these remote, insecure areas is extremely difficult.
And although the army has freed the last few towns still under some form of Boko Haram control, many internally-displaced people remain reluctant to return home.
Since being pushed out of territory, militants have reverted to guerrilla tactics, raiding villages for supplies and bombing targets such as places of worship, markets and bus stations.
Unicef is treating malnourished children and providing clean water. It is also helping tens of thousands of children continue their education.
But the organisation says it has received only a third of the $50m (£32m) it needs for its work in the Lake Chad region, creating a shortfall in measles vaccinations and other aid.
---
Boko Haram at a glance

Founded in 2002, initially focused on opposing Western-style education - Boko Haram means "Western education is forbidden" in the Hausa language
Launched military operations in 2009
Thousands killed, mostly in north-eastern Nigeria, abducted hundreds, including at least 200 schoolgirls
Joined Islamic State, now calls itself "West African province"
Seized large area in north-east, where it declared caliphate
Regional force has retaken most territory this year